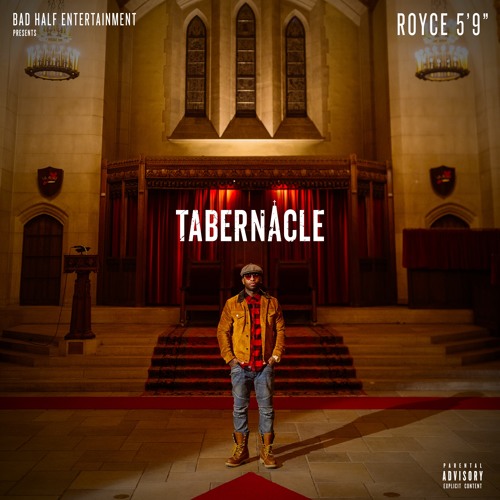 Finally, Royce drops his newest EP – Tabernacle: Trust the shooter. In a first few bars on the single "Which is cool" we hear lines like: "If you don't write your own rhymes get offended, this is to you" – *cough cough* Drake *cough*. Royce takes a slight jab at today's rap superstar. But his EP isn't about dissing young cats who make money off the culture. Nah… Royce is keepin' it real with minding his own business and delivering a high quality product hip-hop heads were anticipating from him. With these lines and the above mentioned single, Royce just tells you how he feels about everything and where he stands amidst the whole rap game. "Yall doing whatever to get money, which is cool, but I'mma lyricist and ain't no one is taking this title just like that".
Royce has established his reputation in hip-hop long ago and with this latest EP, to me, it is clear as a blue sky, that he's on top of his game. But we have to say, he's signed to shady records, he's getting paid very well and he has the artistic freedom to do whatever he wants. He can be a lyricist and not go broke – and that won't apply to Drake, Pitbull and many other "artists" in music business. We have to realize that dumbed down artists are making millions of dollars not just for themselves, but for their record companies as well. And since greed knows no limits, they can't stop. Where Royce was always a decent and a humble dude, and he ain't dropping that style any time soon.
Beat is produced by Nottz, (he also produced my favorite song by Royce "merry go round") and Bad just keeps on crushing his what was supposed to be a competition by saying, Bars? What bar are you talking about, you guys can't even lift a stool! – this metaphor is catchy, which is cool. I won't spoil rest of the song, you can enjoy cascade of punch lines on your own.
My other favorite track was Banjo. Man, I love AraabMuzik, that dude just has too much talent, I think it should be illegal at this point. Is it really me or some of his beats are just straight psychedelic mind controlling type of illuminati shit? Once it plays, you can't hit the stop button… But let me make another article about Araab. Royce, alongside with Styles P (this album is just full of pure lyricists!) deliver some rawest bars with that old school flow. Their technique is untouchable.
Royce: "Nothin' is important,/ but to import tons/ On my fourth run/ while I'm eatin' lunch with my forked tongue!" someone might not feel these bars, but that won't be cool. Styles P just takes you in another realm with: "I never write a rhyme, I recite my other life"  …phew! If Royce called this EP, I can't even imagine what his upcoming album will be. Afraid I might get my hopes too high.
I don't know about winter, or war, but Layers album is coming and hip-hop should embrace it.
…also, there's a snippet of a song "Rapping on steroids" featuring Black tought (another pure lyricist… I'm crying with joy over here) and Eminem. Song is intense and full of hardcore rapping (my favorite). Hope to hear full version soon, I know that Shady cat is gonna spazz on this beat.